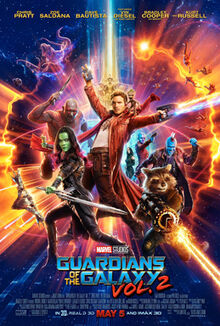 Guardians of the Galaxy Vol. 2 is a upcoming 2017 superhero adventure film. It is be the sequel to Guardians of the Galaxy. It is scheduled to be released in the United States on May 5, 2017, in 3D and IMAX 3D.
Synopsis
Edit
Set two-to-three months after the first film, the Guardians of the Galaxy travel throughout the cosmos and struggle to keep their new-found family together, while helping Peter Quill learn more about his true parentage.
Chris Pratt as Peter Quill / Star-Lord

Wyatt Oleff once again plays a young Peter Quill via his flashbacks with Meredith and Yondu

Zoe Saldana as Gamora
Dave Bautista as Drax the Destroyer
Vin Diesel as Baby Groot
Bradley Cooper as Rocket
Michael Rooker as Yondu Udonta
Karen Gillan as Nebula
Pom Klementieff as Mantis
Elizabeth Debicki as Ayesha
Chris Sullivan as Taserface
Sean Gunn as Kraglin
Sylvester Stallone as a member of the Nova Corps
Kurt Russell as Ego

Aaron Schwartz as a younger version of Ego.
Ad blocker interference detected!
Wikia is a free-to-use site that makes money from advertising. We have a modified experience for viewers using ad blockers

Wikia is not accessible if you've made further modifications. Remove the custom ad blocker rule(s) and the page will load as expected.